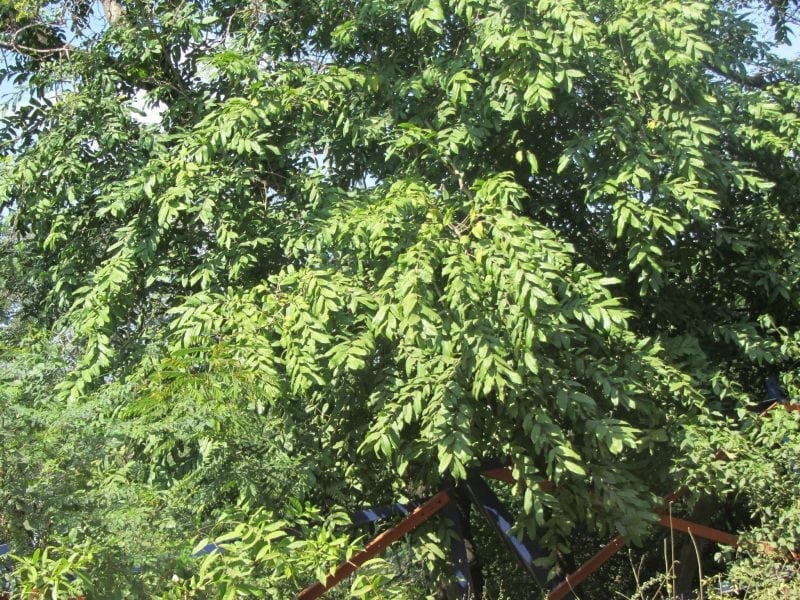 Hopea mengarawan (https://th.wikipedia.org/wiki/%E0%B8%A3%E0%B8%B2%E0%B8%A2%E0%B8%8A%E0%B8%B7%E0%B9%88%E0%B8%AD%E0%B8%9E%E0%B8%B1%E0%B8%99%E0%B8%98%E0%B8%B8%E0%B9%8C%E0%B9%84%E0%B8%A1%E0%B9%89%E0%B8%A1%E0%B8%87%E0%B8%84%E0%B8%A5%E0%B8%9E%E0%B8%A3%E0%B8%B0%E0%B8%A3%E0%B8%B2%E0%B8%8A%E0%B8%97%E0%B8%B2%E0%B8%99%E0%B8%9B%E0%B8%A3%E0%B8%B0%E0%B8%88%E0%B8%B3%E0%B8%88%E0%B8%B1%E0%B8%87%E0%B8%AB%E0%B8%A7%E0%B8%B1%E0%B8%94#/media/File:Tree_PAALAI_(grown).JPG) by Sengai Podhuvan via Wikimedia commons is licensed under CC-BY SA 3.0 (https://creativecommons.org/licenses/by-sa/3.0)
Despite emerging targeted therapies for breast cancer developed in recent years, breast cancer remains to be the second leading cause of cancer-related death in U.S. women. A team at the McArdle Laboratory for Cancer Research at the University of Wisconsin Carbone Cancer Center identified a naturally occurring compound that helps restrict the uncontrolled growth of breast cancer cells. They hope this discovery will lead to more effective treatment of breast cancer, in particular those patients whose cancers have developed resistance to current therapies.
Approximately 70% of breast cancers depend on estrogen, the female hormone, for growth. Estrogen is known to promote uncontrolled growth of cells via binding to a protein called estrogen receptor alpha (ERa). Currently, women with their tumors that are ERa-positive are treated with endocrine therapies such as tamoxifen to inhibit ERa activity or aromatase inhibitors to block the production of estrogen. Although many patients respond to these treatments, approximately 50% of responsive tumors eventually relapse due to the development of resistance. Recent studies reveal an important mechanism of resistance is due to drug-induced mutations in ERa. ERa mutations occur in 10-20% of endocrine therapy-resistant disease and could reach up to 50% at the metastatic sites. These mutations make ERa super-active and fail to respond to the current endocrine therapy drugs. Therefore, there is a pressing need to identify a new class of ERa targeting drugs for the treatment of metastatic, ERa-expressing breast cancer.
Dr. Wei Xu, Professor of Oncology and the Marian A. Messerschmidt Professor in Cancer Research, in the McArdle Laboratory for Cancer Research at the University of Wisconsin School of Medicine and Public Health, Madison, WI, discovered that the natural plant product Diptoindonesin G (Dip G) from the stem bark of the tropical plants significantly decreases ERa protein levels, and importantly, is insensitive to ERa mutations. Intriguingly, Dip G acts via a mechanism distinct from all known endocrine-therapy agents. The preclinical data from animal models look promising: When other endocrine therapy agents fail to inhibit or degrade mutant ERa, Dip G still works. Dr. Xu's team found little toxicity of Dip G in normal tissues in animals, so they expect minimal side effects for women who might take it. Dr. Xu and her team are optimizing Dip G structure to improve drug-like properties by making additional analogs (patented by P170010US02).  "Because Dip G is a natural product that functions differently from existing ERa targeting agents, it and its analogs may be developed as new drugs for effective treatment of endocrine-resistant, metastatic disease," she explains.
Xu says that the future looks bright for taking Dip G into clinical trials to treat metastatic patients who have relapsed from endocrine therapies. "Natural products have served us well in combating human diseases. We predict that Dip G can be used as a new magic bullet to reduce the breast cancer mortality." In conjunction with this research endeavor for improving cancer treatment, Dr. Xu is also looking into developing Dip G containing topical gel as a chemoprevention lotion for external use. "Women with a high risk of breast cancer can simply apply the lotion made of this natural product on the surface of their breast to prevent cancer occurrence. The drug concentration will be high locally in the breast to reduce the chance of developing breast cancer, while reducing any drug-associated toxicity to other parts of the body," says Dr. Xu.
This article is a compilation of work by Dr. Xu and others. One recently published study on the topic, Reciprocal Regulation of ERα and ERβ Stability and Activity by Diptoindonesin G was published the journal Chemistry & Biology.
Was this article helpful?
That's great to hear! Want more Science Trends? Sign up for our science newsletter!
We're sorry to hear that! We love feedback :-) and want your input on how to make Science Trends even better.