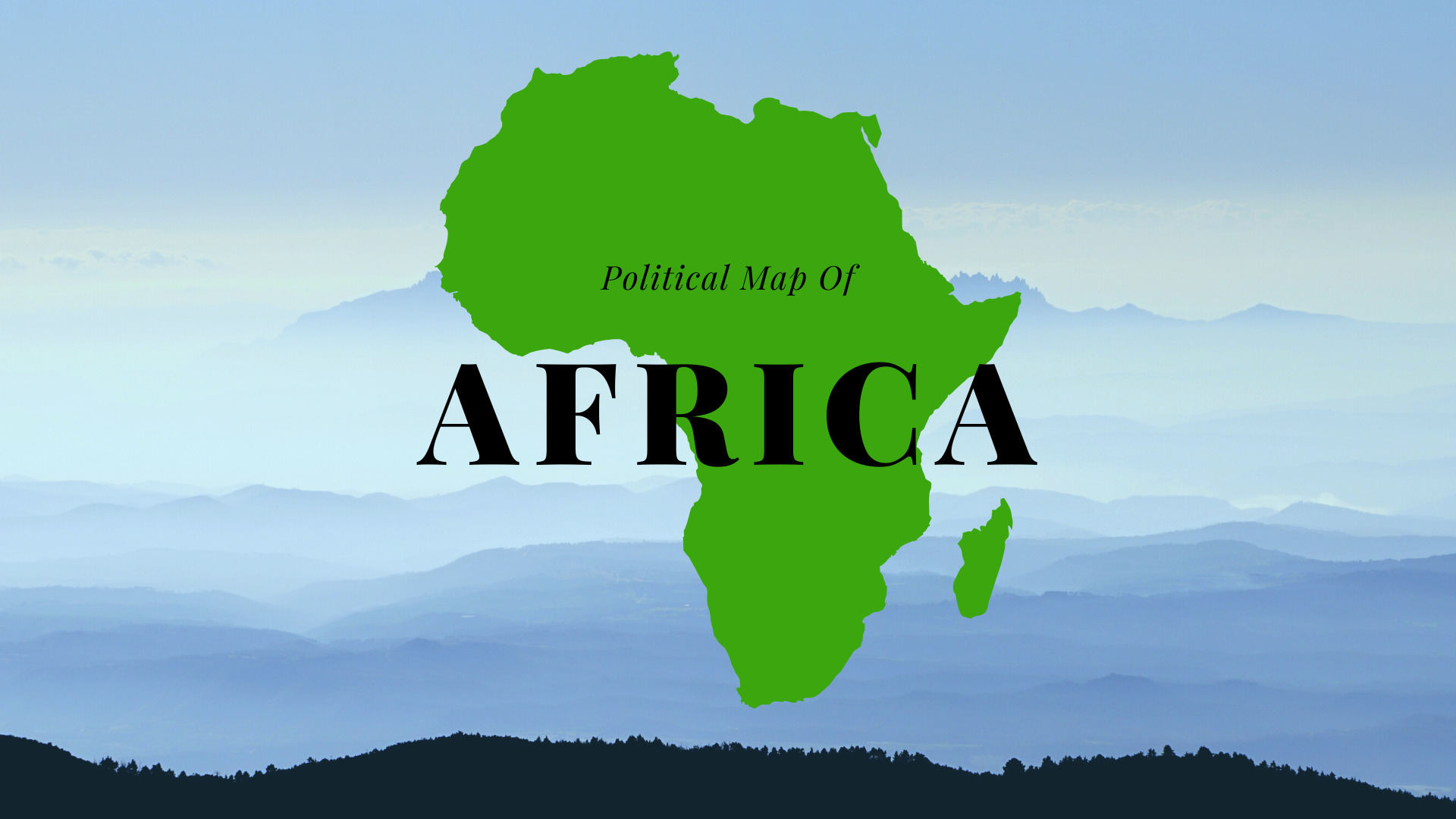 The political map of Africa shows just how complex and diverse the continent, home to 54 countries and over a billion people really is. To put that into perspective, the entire population of the Earth is estimated to be around 7.6 billion people, so Africa does hold a pretty sizable amount of the world's population.
Africa is often referred to as the birthplace of humanity, and rightly so; some of the earliest hominid fossils ever found have been discovered in Africa. To learn about Africa, the countries in Africa and the population in those countries check out this guide.
With each new day in Africa, a gazelle wakes up knowing he must outrun the fastest lion or perish. At the same time, a lion stirs and stretches, knowing he must outrun the fastest gazelle or starve. It's no different for the human race. Whether you consider yourself a gazelle or a lion, you have to run faster than others to survive. – Mohammed bin Rashid Al Maktoum
Africa Map And Facts
Africa holds (roughly) 15% of the world's population and is the second-largest continent on the Earth. It is bigger than the United States, Mexico, China, and even India (even if you were to combine them Africa would still be bigger!). Not only are the earliest humanoids traced back to Africa, but the first ancient civilization can be found in Africa as well. Egypt is the oldest civilization to be literate, therefore making it the first true civilization.
Here are some more fascinating facts about Africa that you or may not know:
Islam is the predominant religion in Africa
Sudan is the largest country
Nigeria is the most populated country
The distance between Africa and Europe at the shortest point is 9 miles
The Sahara desert is the largest HOT desert in the world, but not the largest desert in the world

The award for the largest desert actually goes to the Antarctic

Egypt is the most popular tourist destination in Africa with over 10 million tourists visiting a year
China is Africa's biggest trade partner
Lake Victoria is the continent's largest lake and is the second-largest freshwater lake in the entire world
The world's longest river. the Nile is located in Egypt

it is 4,160 miles long (roughly, it is very hard to get an exact length)

The tallest point in Africa is Kilimanjaro in Tanzania
Africa measures the same north to south as it does east to west

It is 4,660 miles from north to south and measures 4,660 miles long east to west

The world's largest waterfall also resides in Africa on the Zimbabwe and Zambia border

It is the Victoria Falls waterfall
It is 355 feet tall and is almost a mile wide

Madagascar is an island off the eastern coast of Africa and is the 4th largest island in the world

It is 1,000 miles long and 350 miles wide

Early hominid skeletons have been dated back to at least 4.4 million years ago
Africans are the first known humans to fish, harpoons have been found in what is now modern-day Congo

In the same area, daggers were found believed to be for skinning and gutting the fish that were caught
It is possible this was one of the first cultures that revolved around fishing

Africans were the first to develop crops and agriculture

They planted barley, lentils, wheat, capers, dates, and even chick-peas
Milling stones, grindstones, cutting blades, gardening tools, and pestles have been discovered as well

Africans began mummifying their dead 9,000 years ago in Libya

This actually predates Egyptian mummification by 1,000 years!

The great pyramids of Giza are 481 feet tall, or 40 stories tall

They weigh about 100 tons and are comprised of limestone and granite
They were constructed as tombs for dead pharaohs and wealthy Egyptians
Political Map of Africa and Countries in Africa
The drums of Africa still beat in my heart. They will not let me rest while there is a single Negro boy or girl without a chance to prove his worth. – Mary McLeod Bethune
Africa is made up of 54 different countries, each with their own form of government and rule. In the chart below we listed (in alphabetical order) the countries, their capitals, and the population of the countries. Hopefully, this chart will help give you a sense of the sheer amount of people that live in these countries. Obviously, there are a few countries with a smaller population size, but other countries are plain daunting. For instance, Nigeria has a population of 173 million people. I live in the state of Texas, which has a population of 28 million and I think it can be crowded in the big cities down here! Now Nigeria is about 300,000 sq km larger than Texas, but that really isn't a whole lot bigger in the grand scheme of things.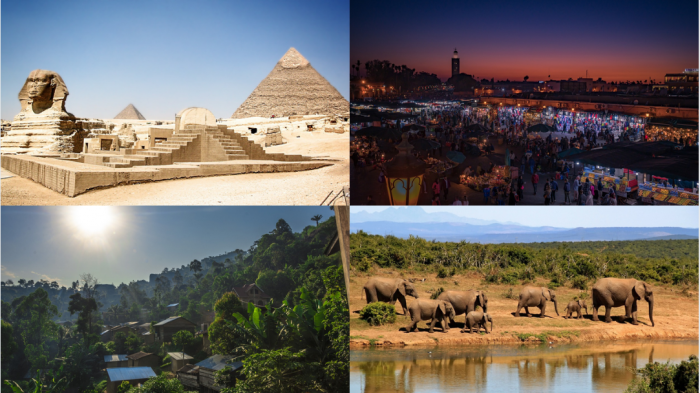 Countries, Capitals, and Populations in Africa
Country
Capital
Population
Algeria
Algiers
40.1 million
Angola
Luanda
24.3 million
Benin
Porto-Novo
10 million
Botswana
Gaborone
2 million
Burkina Faso
Ouagadougou
18.4 million
Burundi
Bujumbura
9.8 million
Cabo Verde
Praia
491 thousand
Cameroon
Yaounde
21.9 million
Central African Republic
Bangui
3.8 million
Chad
N'Djamena
11 million
Comoros
Moroni
806 thousand
Democratic Republic of the Congo
Kinshasa
86 million
Republic of the Congo
Brazzaville
3.6 million
Cote d'Ivoire
Yamoussoukro
Djibouti
Djibouti
864 thousand
Egypt
Cairo
94.4 million
Equatorial Guinea
Malabo (de jure), Oyala (seat of government)
1.2 million
Eritrea
Asmara
6.5 million
Eswatini (formerly Swaziland)
Mbabane (administrative),Lobamba (legislative, royal)
1.1 million
Ethiopia
Addis Ababa
99.3 million
Gabon
Libreville
1.8 million
Gambia
Banjul
1.8 million
Ghana
Accra
27 million
Guinea
Conakry
10.6 million
Guinea-Bissau
Bissau
1.5 million
Kenya
Nairobi
45.5 million
Lesotho
Maseru
1.8 million
Liberia
Monrovia
3.4 million
Libya
Tripoli
5.2 million
Madagascar
Antananarivo
22.4 million
Malawi
Lilongwe
16.8 million
Mali
Bamako
14.5 million
Mauritania
Nouakchott
3.7 million
Mauritius
Port Louis
1.2 million
Morocco
Rabat
33.3 million
Mozambique
Maputo
28 million
Namibia
Windhoek
2.2 million
Niger
Niamey
17.1 million
Nigeria
Abuja
173 million
Rwanda
Kigali
10.5 million
Sao Tome and Principe
São Tomé
179 thousand
Senegal
Dakar
14.3 million
Seychelles
Victoria
90.9 thousand
Sierra Leone
Freetown
6.3 million
Somalia
Mogadishu
12.3 million
South Africa
Pretoria (administrative), Cape Town (legislative), Bloemfontein (judicial)
54.9 million
South Sudan
Juba
8.2 million
Sudan
Khartoum
40.2 million
Tanzania
Dodoma
51 million
Togo
Lomé
6.1 million
Tunisia
Tunis
10.9 million
Uganda
Kampala
34.8 million
Zambia
Lusaka
15.4 million
Zimbabwe
Harare
13 million
"I dream of an Africa which is in peace with itself." — Nelson Mandela
Was this article helpful?
That's great to hear! Want more Science Trends? Sign up for our science newsletter!
We're sorry to hear that! We love feedback :-) and want your input on how to make Science Trends even better.