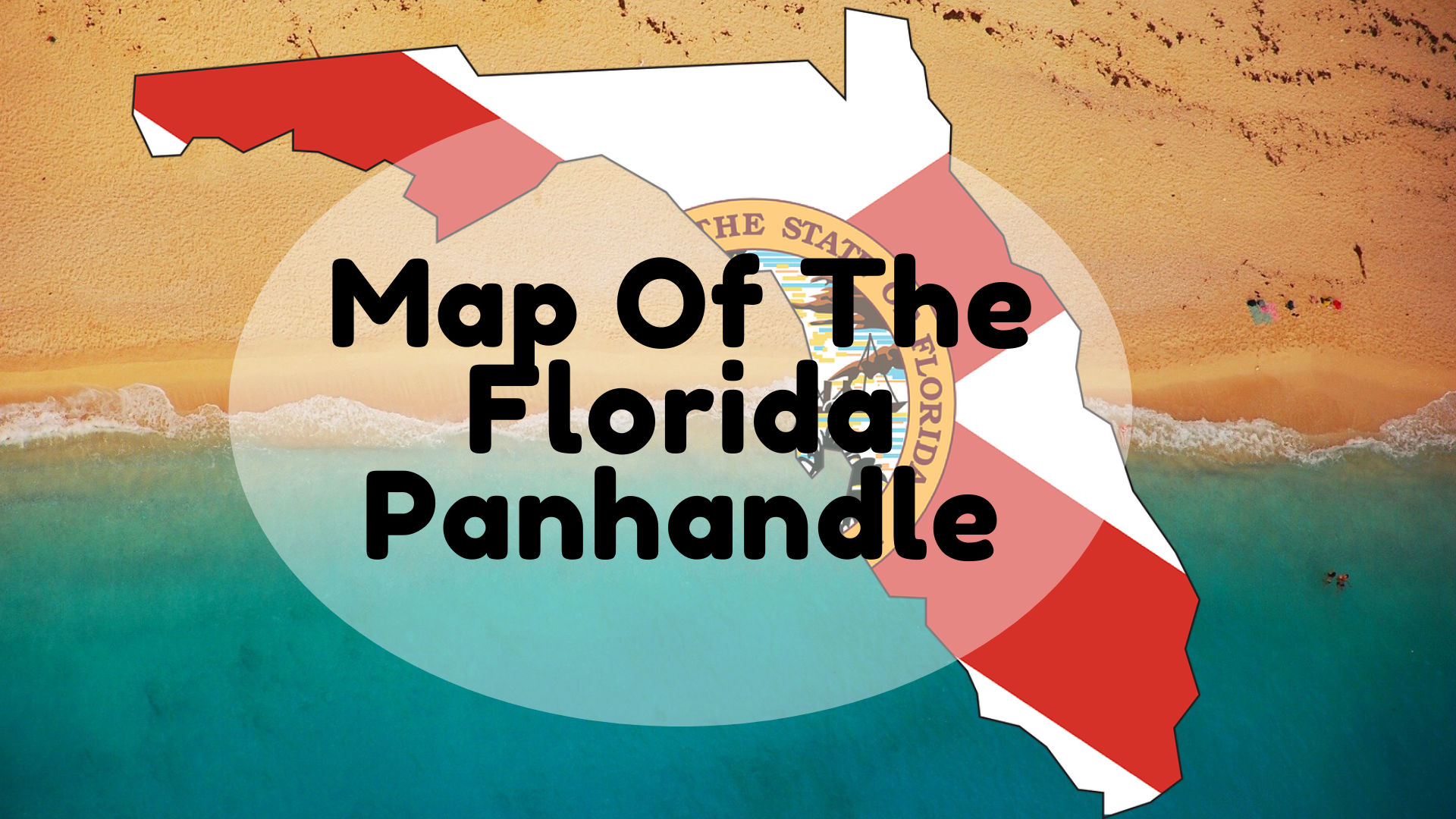 Check out the Florida gulf coast map and you'll see just how beautiful the panhandle is. Florida is a very unique state in that it is situated along the Atlantic Ocean and the Gulf of Mexico, but one well-known location is the Florida panhandle along the Gulf of Mexico. The Floridian panhandle is an unofficial term but is pretty widely used. The term "panhandle" is not unique to just Florida, it is used in other states across America, as well as other countries across the world. To learn all about the Florida panhandle, and the cities and beaches there, check out this guide.
The travel and tourism industry is the lifeblood of many states around the country – including Florida, California, New York and Nevada, to name a few. – Mark Foley
Why Is The Florida Gulf Coast Called A Panhandle?
The term panhandle is an unofficial word, the technical name is actually salient. According to Merriam-Webster (which can be found here) a salient is:
projecting beyond a line, surface, or level
Basically, a salient is a projection of something. In this case, a panhandle is a projection of a state (in particular, Florida). There are 9 states that have panhandles.
States With Panhandles
State
Population
Alaska
739 thousand
Connecticut
3.5 million
Florida
20 million
Idaho
1.7 million
Maryland
6 million
Nebraska
1.9 million
Oklahoma
3.9 million
Texas
28 million
West Virginia
1.8 million
There are also a lot of countries that have salients, but we won't get into that right now.
Florida Gulf Coast Map
There are two distinct coastal regions to the panhandle; the emerald coast and the forgotten coast.
The Emerald Coast Of The Florida Panhandle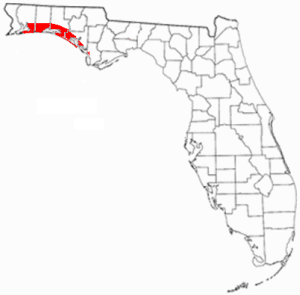 This is an unofficial term coined in 1983 that encompasses the far western portions of the coastline that goes about to the middle of the panhandle. This is also, occasionally, used to refer to the coast of the panhandle as a whole. The counties included in the emerald coast are: Walton County, Okaloosa County, Santa Rosa County, Escambia County, and Bay County.
The Forgotten Coast Of The Florida Panhandle
The rest of the coastline of the panhandle is referred to as the forgotten coast, a name coined in the very early 1990s. It includes these counties: Bay County, Franklin County, Gulf County, Wakulla County. You may notice that Bay County is included in both the Emerald Coast and the Forgotten Coast, and that's because a small part of it is included in the Emerald coast, the rest is considered to be in the Forgotten Coast area (as you might be able to see in the maps above)
Cities in the Florida Gulf Coast Panhandle
Now let's quickly go over all the cities and counties located with the Florida panhandle region. The largest city in this area is Tallahassee, which is also the capital of Florida. It has a population of 180 thousand people (as of 2010).
Cities and towns in alphabetical order:
Apalachicola
Blountstown
Bonifay
Callaway
Carrabelle
Cedar Grove
Chipley
Crestview
DeFuniak Springs
Destin
Fort Walton Beach
Gulf Breeze
Lynn Haven
Marianna
Milton
Navarre
Niceville
Panama City
Panama City Beach
Pensacola
Port St Joe
Quincy
Springfield
Tallahassee
Valparaiso
Counties:
Bay County
Calhoun County
Escambia County
Franklin County
Gadsden County
Gulf County
Holmes County
Jackson County
Jefferson County
Leon County
Liberty County
Madison County
Okaloosa County
Santa Rosa County
Taylor County
Wakulla County
Walton County
Washington County
What Are Some Good Places To Visit While You're In The Panhandle?
The panhandle of Florida has plenty of beautiful cities and beaches, so we will just go over a few of the more notable ones.
Ways To Get To The Panhandle
If you are visiting from out of state there are a few ways you can actually get into the panhandle, but here are some personal favorite ways:
Interstate 10: This interstate runs coast to coast, stretching from Santa Monica, California and goes clear across to Lake City, Florida
Tallahassee International Airport: This airport is in Tallahassee, is a close drive to beautiful beaches and is accessible from other major airports from across the country (and even the world)
Cities To Visit
When you plan your trip to the panhandle, make sure you visit these cities: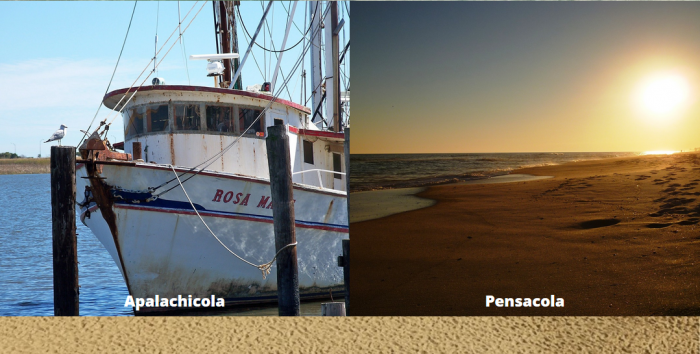 Tallahassee

: founded in 1824, this is the capital of the state of Florida. It is home to Florida A&M University, and the name Tallahassee means "old town" in Muskogean

Pensacola

: founded in 1559 by Pensacola Native Americans, this city is located near the border of Florida and Alabama. Pensacola is often called "Aerica's first settlement"

Apalachicola

: the name is derived from many Native American tribes to mean "people on the other side of the river", is a small town of 2,000 people. Very historical and beautiful city
Beaches To Visit
Finally, here are some of the great beaches you can visit:
Panama City Beach

Very popular vacation destination
Lots of hotels and condos to choose from
Is referred to as one of the world's prettiest beaches because of its white sand

Destin

White sandy beaches and green waters draw large amounts of people to this popular vacation spot
Has lots of great fishing spots and is a very popular vacation fishing destination

Fort Walton Beach

Very family-friendly vacation spot
Lots of museums can be found in Fort Walton

Miramar Beach

Massive outlet mall to visit when you want to get away from relaxing on the beach
Can go visit Jolee Nature Park, which is dog-friendly and a little different scenery than the white sandy beaches

Santa Rosa Beach

Santa Rosa Beach is actually an unincorporated community in Walton County
Located in the Emerald Coast
Founded in 1910, has a very old-time beach feel that you can see the history in
If you love history, definitely check out Santa Rosa Beach

St. George Island

28-mile long state-protected barrier island
Very pet-friendly!
The island has strict building codes so no buildings will obstruct your view of the Gulf of Mexico
The island is home to lots of wildlife and is great for nature fans
Was this article helpful?
That's great to hear! Want more Science Trends? Sign up for our science newsletter!
We're sorry to hear that! We love feedback :-) and want your input on how to make Science Trends even better.