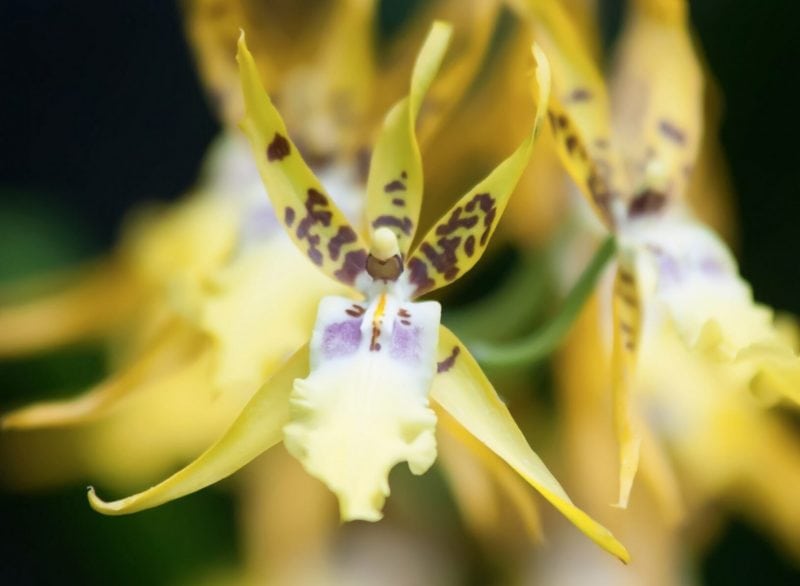 A blooming Orchid (publicdomainpictures.net)
When Carlos began his Ph.D. fieldwork at one of the most diverse forests of the world in southeastern Brazil, he expected to find some news about orchid pollination and the role of floral fragrances in it. What he found was a crazy story about orchids and herbivore weevils.
During the first year of field observations, looking for bee pollinators on flowers, Carlos observed diminutive black weevils the size of pinhead visiting flowers of almost all the plant species he was studying. First, he thought they were simple herbivores with only negative impacts on plant survival and reproduction. However, these assumptions were put in check after he observed a weird behavior by some of the weevils before laying their eggs inside flowers.
His colleague and co-author of the work published in Current Biology (Nunes et al. 2018), Pietro Kiyoshi Maruyama, was sharing the same forest area for his fieldwork at the time Carlos started observing these weird things on orchid flowers. Despite Carlos' preconceptions and skepticism on the role of weevils in orchid pollination, Pietro encouraged him to further his observations of the weevil behavior on flowers and their role on plant reproduction.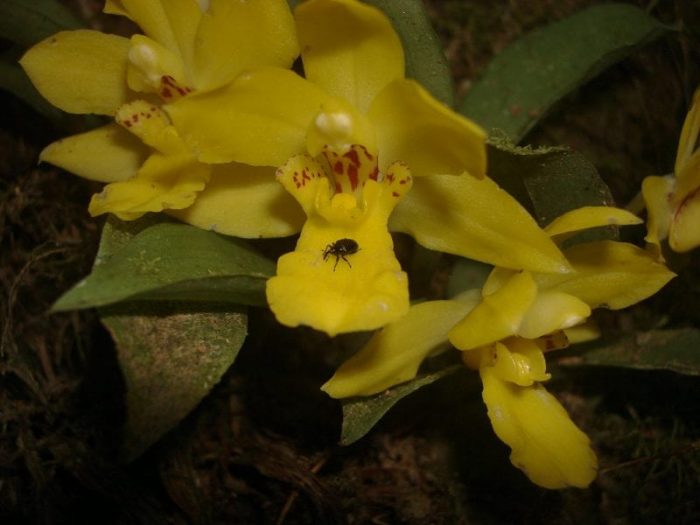 After six years of observations and data-gathering, Carlos and colleagues figured out what was happening and it was simply astonishing: female weevils were deliberately pollinating orchid flowers to have their brood fed on the developing fruits!
The possible positive role of weevils enhancing orchid pollination was first suggested by Ludmila Mickeliunas and colleagues in another forest location in southeast Brazil (Mickeliunas et al. 2006). However, at that point, a detailed description of the weevil behavior was not reported yet. Those researchers observed that plants that were visited by weevils ended the flowering season with almost all flowers pollinated, a rare thing when talking about tropical epiphytic orchids.
Carlos and colleagues observed that female weevils were actively pollinating all the flowers where they laid their eggs. They video-recorded that behavior in nature but also took plants and weevils to the lab where the beetles reproduced the behavior like little pollinating robots (see the videos at CB publication).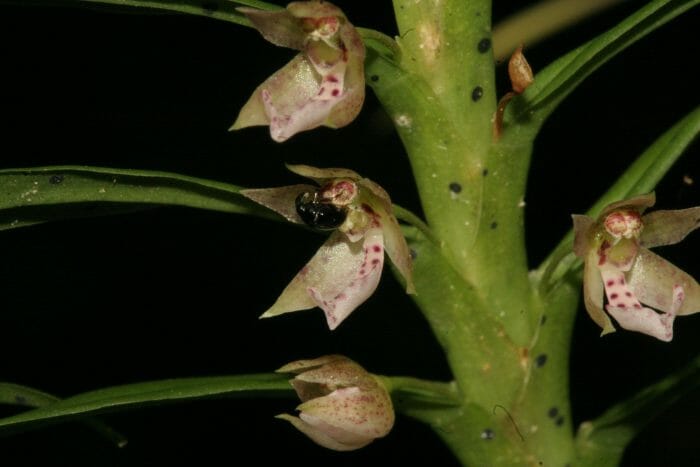 In a tiny flowered orchid species, Dichaea cogniauxiana, female Montella weevils actively self-pollinate the flowers by manipulating the pollinia (orchid pollen masses) with their beak and front legs. After placing the pollinia into the stigma, the weevil injects an egg inside the stigmatic cavity (see the videos). After hatching, the larvae feed on the developing ovules of the fruit, eating all fruit content by the end of its development.
If everything goes right for the weevils, no fruit is left for plant reproduction. However, they found another astonishing interaction: parasitoid wasps (and likely other factors) kill a significant part of the larvae and, after parasitoid infestation or 'rescue', fruits can proceed to seed release with the same seed viability of intact fruits. Thus, the natural enemies of the pollinating weevils make them a good pollinator for this species.
Researchers also observed weevil behavior in another orchid species, Dichaea pendula, in which the same floral volatile that attracted effective bee pollinators also attracted these pollinating weevils (Nunes et al. 2016). Curiously, all the flowers pollinated by weevils were aborted in that orchid, leaving no fruit for either the insect or plant reproduction and bees are the only responsible for fruit set as in most of the orchids studied in the area (Nunes et al. 2017).
So, the role of weevils on plant reproduction as well as the success of these beetles depend on the features of the breeding system of the plant and on the presence of other actors, such as parasitoid wasps.
Weevils are amazing beetles, who also practice agriculture by growing fungi on tree trunks (Farrell et al. 2011). We must expect more crazy stuff from them after more detailed studies on their ecology and evolution.
These findings are described in the article: Nunes CEP, Maruyama PK, Azevedo-Silva M, Sazima M (2018) Parasitoids Turn Herbivores into Mutualists in a Nursery System Involving Active Pollination. Current Biology. doi: 10.1016/j.cub.2018.02.013. This work was led by Carlos E. P. Nunes from Universidade Estadual de Campinas.
References
Farrell BD, Sequeira AS, Meara BCO, et al (2011) The Evolution of Agriculture in Beetles ( Curculionidae : Scolytinae and Platypodinae ) Published by Society for the Study of Evolution Stable URL : https://www.jstor.org/stable/2680449 The Evolution Of Agriculture In Beetles ( Curculionidae : Scolytinae. Society 55:2011–2027.
Mickeliunas L, Pansarin ER, Sazima M (2006) Biologia floral, melitofilia e influência de besouros Curculionidae no sucesso reprodutivo de Grobya amherstiae Lindl. (Orchidaceae: Cyrtopodiinae). Rev Bras Botânica 29:251–258.
Nunes CEP, Maruyama PK, Azevedo-Silva M, Sazima M (2018) Parasitoids Turn Herbivores into Mutualists in a Nursery System Involving Active Pollination.
Nunes CEP, Peñaflor MFG V., Bento JMS, et al (2016) The dilemma of being a fragrant flower: the major floral volatile attracts pollinators and florivores in the euglossine-pollinated orchid Dichaea pendula. Oecologia 182:933–946. doi: 10.1007/s00442-016-3703-5
Nunes CEP, Wolowski M, Pansarin ER, et al (2017) More than euglossines: the diverse pollinators and floral scents of Zygopetalinae orchids. Naturwissenschaften 104:92. doi: 10.1007/s00114-017-1511-3
Was this article helpful?
That's great to hear! Want more Science Trends? Sign up for our science newsletter!
We're sorry to hear that! We love feedback :-) and want your input on how to make Science Trends even better.