https://commons.wikimedia.org/wiki/File:Storm_Drain_Label_EPA.jpg, image licensed under CC0
SBA-15 is a mesoporous, silicon-based molecule. With large surface areas, pore volume, pore diameter and ordered channel structure, it has been applied widely in the fields of adsorption, catalysis, drug delivery, sensing, and so on.
Compared to MCM-41s, SBA-15 can be synthesized under a conditioned acid and has larger pore diameter, higher heat, and hydrothermal stability; however, due to the lack of necessary activity sites, further application of mesoporous nanomaterials has been limited.
With the introduction of metal, metal oxide and some organic function groups, the active sites of mesoporous materials have largely increased, and their application range has also greatly expanded. (Mate Lett 2015, 145, 312-315; Mater Lett 2016,162, 110-113.)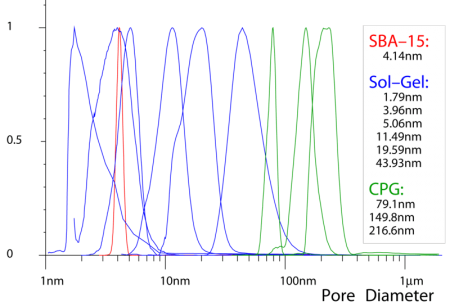 Cu/SBA-15 maintains the ordered structure of mesoporous materials and its specific surface areas, as well as enlarged pore diameters. The channels of SBA-15 could become Nanoreactors to effectively confine and control the growth of metal particles as copper nanoparticles.
Furthermore, copper nanoparticles could be highly dispersed in the matrix of SBA-15. Due to the introduction of Cu nanoparticles, channels of SBA-15 are blocked and cause partial strain to the pores; thereby, increasing mesoporous diameter and creating the new micropores.
With the rapid development of industry, a lot of heavy metal and refractory toxic organic compounds were discharged into water. Not only has it polluted the water resources, but it has also affected the health and survival of human beings. P-nitrophenol, therefore, is a typical representative of such pollutants. Cu/SBA-15, as an effective catalyst, has exhibited excellent catalytic activity and over 99.0% of p-nitrophenol has been reduced to p-aminophenol, which is a kind of potentially effective intermediate product.
By increasing the reaction temperature and copper loading, the time to complete reaction shortened. In sum, we believe that, with deeper research, Cu/SBA-15 will play a more important role in the field of pollutant elimination. (J. Porous Mater 2018, 25, 207–214.)
These findings are described in the article entitled Preparation, characterization and excellent catalytic activity of Cu/SBA-15 nanomaterials, recently published in the Journal of Porous Materials. This work was conducted by Jh Wang from the Shaanxi University of Technology.
Was this article helpful?
That's great to hear! Want more Science Trends? Sign up for our science newsletter!
We're sorry to hear that! We love feedback :-) and want your input on how to make Science Trends even better.