The Amazonite stone is a green mineral that is named after the Amazon River in South America.
This green mineral is known by two names: Amazonite or Amazon stone. Technically, this stone is a green tectosilicate mineral composed of microcline. The formula for this mineral is K(AISi3o8).
This mineral belongs to the triclinic crystal system.
Why Is Amazonite Named After The Amazon River?
The name of this mineral is somewhat misleading. The reason that this mineral is named after the Amazon river in South America is that some green stones were found in the area around the Amazon river in the past. However, the jury is still out on whether green feldspar actually happens in that part of the world.
I feel very passionately that we need to take care of the planet and everything on it. Whether it's saving the Amazon or just being kind to those around you, we need t take care of each other and Mother Earth. – Olivia Newton-John
So, where is Amazonite obtained from? The first thing to say about that is that Amazonite has a limited occurrence. The biggest former source of Amazonite was in the Ilmensky Mountains in the Southern Urals in the Russian administrative territory known as Miass. Amazon happens in granitic rocks in that area of Russia near Chelyabinsk.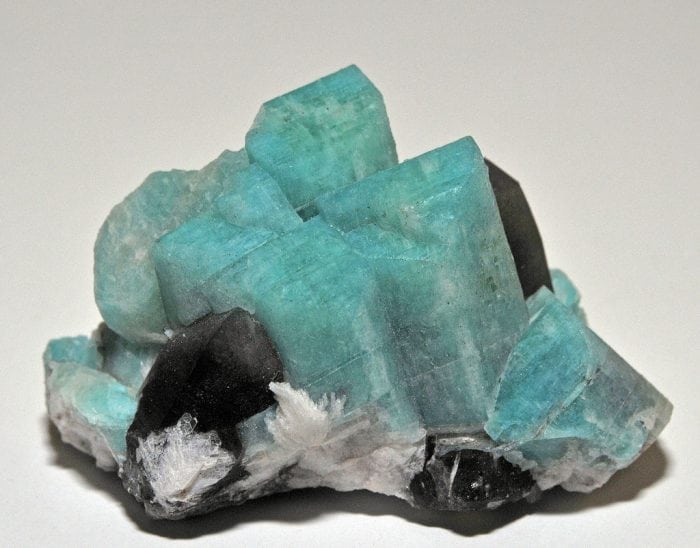 Amazonite stones have also been found in as far-flung regions such as the Tibesti Mountains in Jabal Eghei in Libya, North Africa, and the granite intrusion of Baishitouquan in the region of Xinjiang in China, Asia.
But in more recent years, some areas of North America have become notable sites for the occurrence of Amazonite. Pike's Peak, Colorado has become one of the main sites, characterized from the fact that the Amazonite or Amazon stone found there is associated with albite, orthoclase, smoky quartz, and pegmatite. But this mineral is also found in other US locations such as the Morefield Mine in Amelia Courthouse, Virginia; or Crystal Park in El Paso County, Colorado.
How Can You Identify Amazonite?  
The main characteristic of this tectosilicate mineral is its color, which projects tones between green and blue-green. When polished, this mineral looks bright green, which often results in its used as a relatively cheap gemstone. The only downsizes of that use of Amazonite are that it can become easily fractured and, on the other hand, it can lose its gloss easily because it is a relatively soft stone. It is common for Amazonite gemstones to become cracked or to easily chip so they must always be handled with the utmost possible care.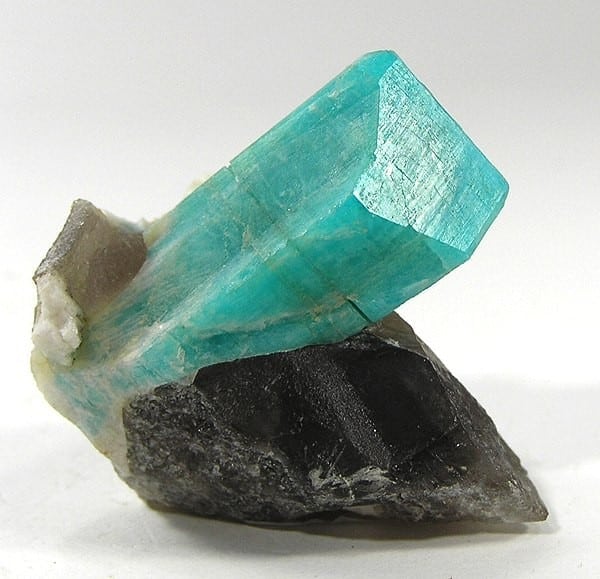 But Amazonite or Amazon stone can be identified by many other characteristics that are not its characteristics green or blue-green color.
Let us now look at other characteristics that would allow us to identify this mineral:
The crystal habit of this stone is prismatic, and its cleavage is perfect.
The fracture characteristic of Amazonite is uneven and splintery. And its tenacity is characterized as brittle.
In the Mohs scale of mineral hardness, Amazonite has a 6-6.5. The luster of Amazonite is vitreous, and its streak is always white.
And, what about its diaphaneity? Amazonite stones are either translucent or opaque.
Amazonite has a specific gravity of 2.56-2.58. The refractive index of Amazonite stones is between 1.522 and 1.530. And its birefringenceis -0.008.
Pleochroism is totally absent from Amazonite and it also has no dispersion. Finally, the ultraviolet fluorescence is weak and olive-green.
What Are the Uses of Amazonite?
As we have already indicated, Amazonite is used as a relatively cheap gemstone. But, we did not say what that gemstone was used for. Polished Amazonite is more often than not used in beads.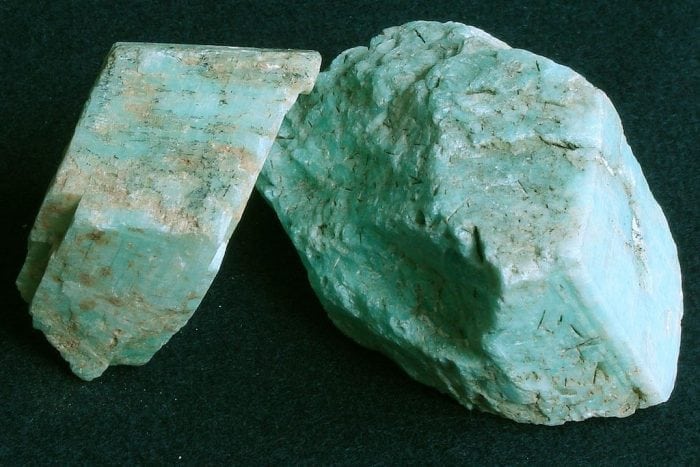 Polished Amazonite or Amazon stone is also sometimes used in carvings and cabochons (i.e., as a gem that has been polished but not faceted).
It is also important to notice that, unlike other gemstones, Amazonite is never treated or enhanced in any way.
There are other similar stones that can sometimes be confused with Amazonite or Amazon Stone, such as Aventurine and Jade. But there are some clear differences between these three stones.
For example, Aventurine has a glitter effect that it is lacking on microcline stones such as Amazonite. And Jade is glossier than the Amazon stone and lacks the white streaks that are admixed in Amazonite. Of the two (Aventurine and Jade), Jade is by far the hardest stone to distinguish from the Amazon stone.
Does Amazonite Have Any Meaning?
Some people believe that minerals and crystals have secret meanings and even healing properties. For those people, all minerals have a spiritual connection to our well being and have properties that can heal us. And Amazonite or Amazon stone is no exception to that.
Some people believe that Amazonite's unique light-green color is a reflection of the soothing energy that the mineral allegedly possesses.
This stone is also sometimes referred to as the hope stone and, as such, is used in daily meditation to provide the necessary calmness and soothing. The stone's role in meditation tends to be one of infusing the person that meditates in close proximity to this stone with self-confidence and whatever is necessary to instill a can-do attitude in him or her.
And for people who believe in chakras, Amazonite is believed to be a rather powerful throat chakra. This connection to the throat would mean that one of the healing properties of this stone is linked to our voices, in the sense of telling the truth but also having our voice heard by others.
Amazonite alleged soothing properties are meant to help smooth over old emotional wounds. But it is also believed to have a connection to the heart chakra that would give the person who uses it the clarity of the mind and the wisdom to recognize compassion. Finally, this stone is meant to infuse your spirit with true intentions.
Whether you believe in the magical healing properties of stone or are merely interested in the geological properties of Amazonite, we hope you have learned all you needed about this mineral by reading this article.