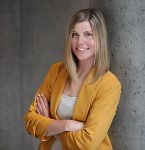 Kristina Campbell (M.Sc.), from British Columbia (Canada), writes and speaks about a topic that's at the forefront of scientific innovation in health and medicine: the human microbiome. Her favorite subjects? Gut microbiota, nutrition, probiotics, prebiotics, and fecal microbiota transplantation. 
She's authored two books -- one for the public (The Well-Fed Microbiome Cookbook, Rockridge Press, 2016), and one for scientists and health professionals (Gut Microbiota: Interactive Effects on Nutrition and Health, Elsevier, 2018). 
Getting the science right is her number one priority. With all the work she curates and produces, she will give you the facts, not the hype.